How Nigerian Streetwear Brand, Daltimore, is Rising To Celebrity Status – OkayAfrica
We spoke with founder and creative director David Omigie about expression through clothing and that #BBNaija pic.
Backstage at her first live performance at the Big Brother Naija eviction show in July, Mavin's music starlet Ayra Starr posed for Instagram wearing a custom, ivory two-piece outfit. The 19-year-old posed wearing a slinky bandeau crop top with a metallic accent, and high waist baggy pants paired with opera fingerless gloves. The outfit is reminiscent of the same chic, carnal athleticism seen in Ayra's video for Bloody Samaritan, where she wears both a custom fur coat and a monochromatic red leather outfit. Both looks are the work of Nigerian streetwear brand Daltimore.
These moments of fashion aren't happening in isolation. Streetwear has a stronghold on Nigerian youth culture, especially in Lagos, often troping around the resurgence of Y2K aesthetics that have begun to influence the buzzing profiles of Gen Z artists, fashion influencers, and entertainers. Bucket hats, crop tops, baguette bags, baggy jeans, mini skirts, and so on. Enter Daltimore, seizing the moment by signposting how these cultural pulses are intersecting. At first, the brand didn't eschew streetwear's disruptive tendencies when founded by its creative director David Omigie in 2015. The brand name is significant for David, to immortalize his late brother. Baltimore was his nickname back in high school.
This isn't the only familial death David has experienced to inspire the Daltimore footprint. The debut collection embraced simple, conservative tailoring, dashiki tunics, and shift dresses that stayed slightly loose on the body. Blending in casual touches like jeans and sneakers to keep it modern, the collection in hindsight appeared to be foreshadowing possibilities in streetwear. With a wave of terrorist attacks in Northern Nigeria and the unfair stereotyping of the region as violent and hostile, Daltimore shifted focus to the region's culture and iconography to dispel media narratives for its 2018 collection.
checkdfpScripts();

From 2Baba, Blaqbonez, Joeboy, Fireboy DML, Dremo, Lady Donli to Toke Makinwa, Dare Art-Alade, Ric Hassani, Oxlade, Daltimore has accrued an impressive list of celebrity fans in a relatively short time. In this OkayAfrica interview, David shares his motivation for going into fashion, how he's been navigating the industry, and defines streetwear from his vantage point.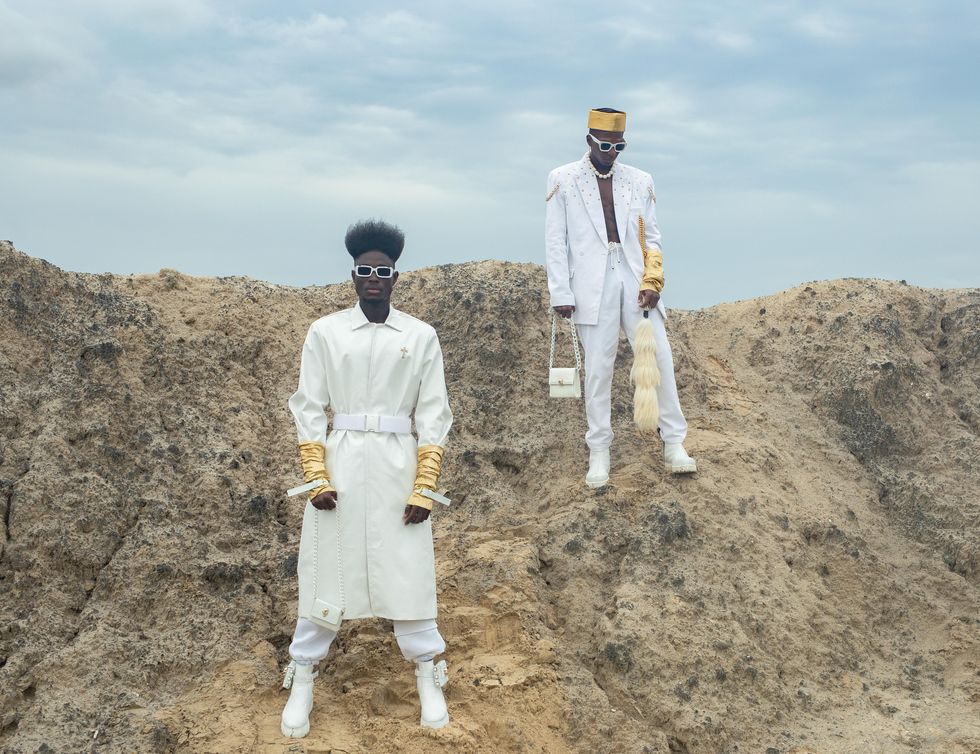 Image: Models wear Daltimore's White Line SS21 collection / image credit: @_alaoo (instagram)
When I first decided to start the brand, I was in my first year in pharmacy school, and back then all I wore were tailored pants and corporate shirts and I told myself I would do the opposite with my brand. So from then, I was always thinking of making pieces that I could use to express another side of me that wasn't a 'health care professional' because that's all that society saw me as and they put me in a box. I decided to leave the box and show my creativity and streetwear is my canvas.
I get asked this question a lot and it also shows how much people expert health care professionals to be strictly into healthcare. Growing up my parents always wanted me to be a doctor and I quite loved sciences but I always had a creative side and I wanted to have the best of both worlds so I started my brand while still studying. I never really had any training as I had only basic tailoring for three months after I graduated university but before the training, I was taught to use a sewing machine in church and since then I was sewing bags, purses, and other small items which helped me when I started making clothes. But mostly, I'm self-taught.
For me, streetwear is anything you can express yourself and your style with. Most people hear streetwear and think t-shirts and stuff but streetwear isn't really about the piece of clothing but the expression.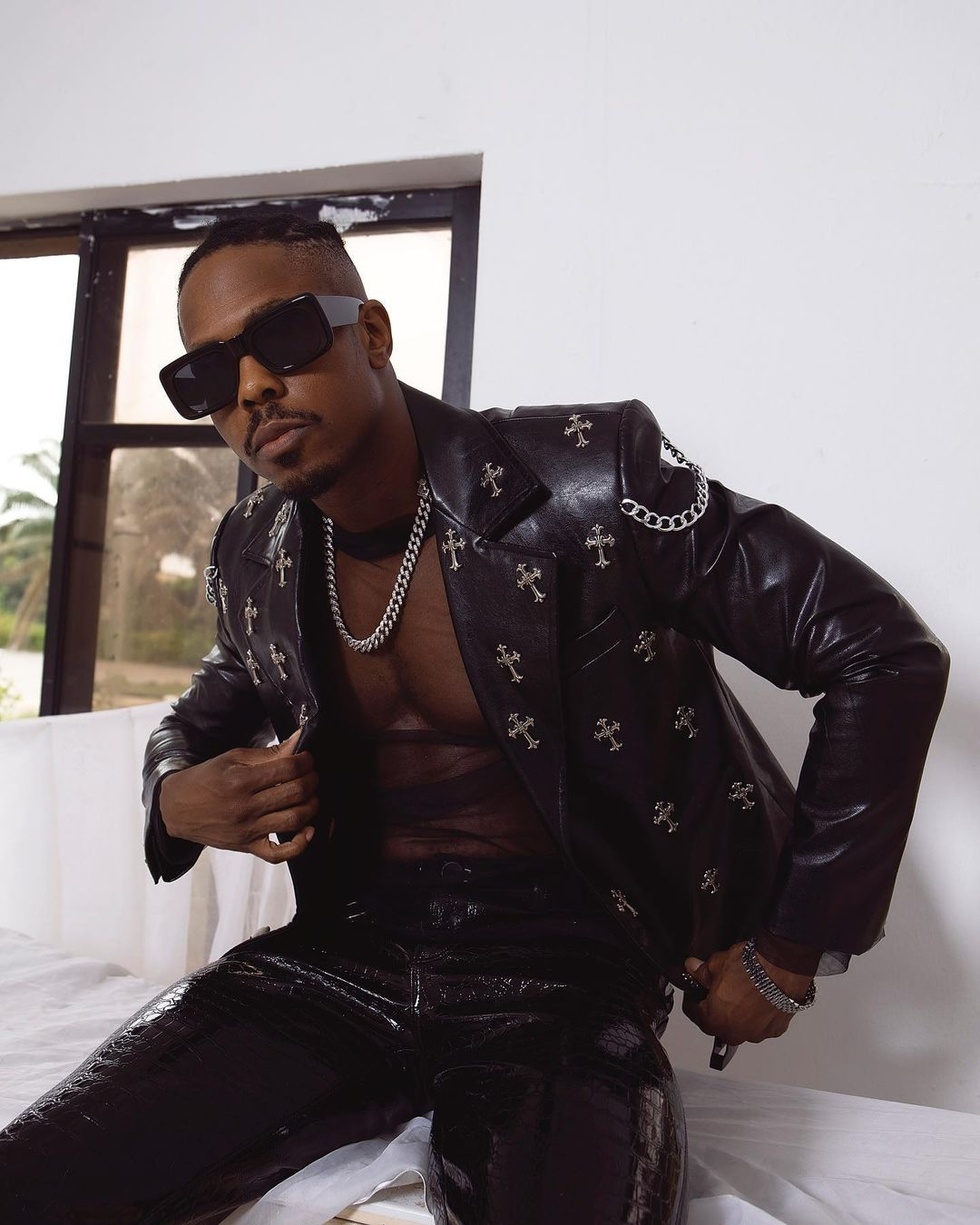 Image: Nigerian rapper, Ladipoe, wears a silver crucifix-embellished leather jacket from Daltimore / image credit: @iamjinius_ (instagram)
That would be the rapper Ladipoe. I got the contract to make some outfits for a performance for him and at first, I was really nervous and imposter syndrome kicked in a bit but I trusted myself and the work I had been putting in for the brand and that gave me the confidence to pull through.
I would say the artists are drawn to the brand because our pieces are unique and we aren't making the regular "streetwear" clothes and also the stylists have been key to it because they have been connecting me to the artists.
Bella Shmurda. He's a very creative artist and detailed. We both love pushing the boundaries of fashion and we always love to fuse streetwear with our native culture.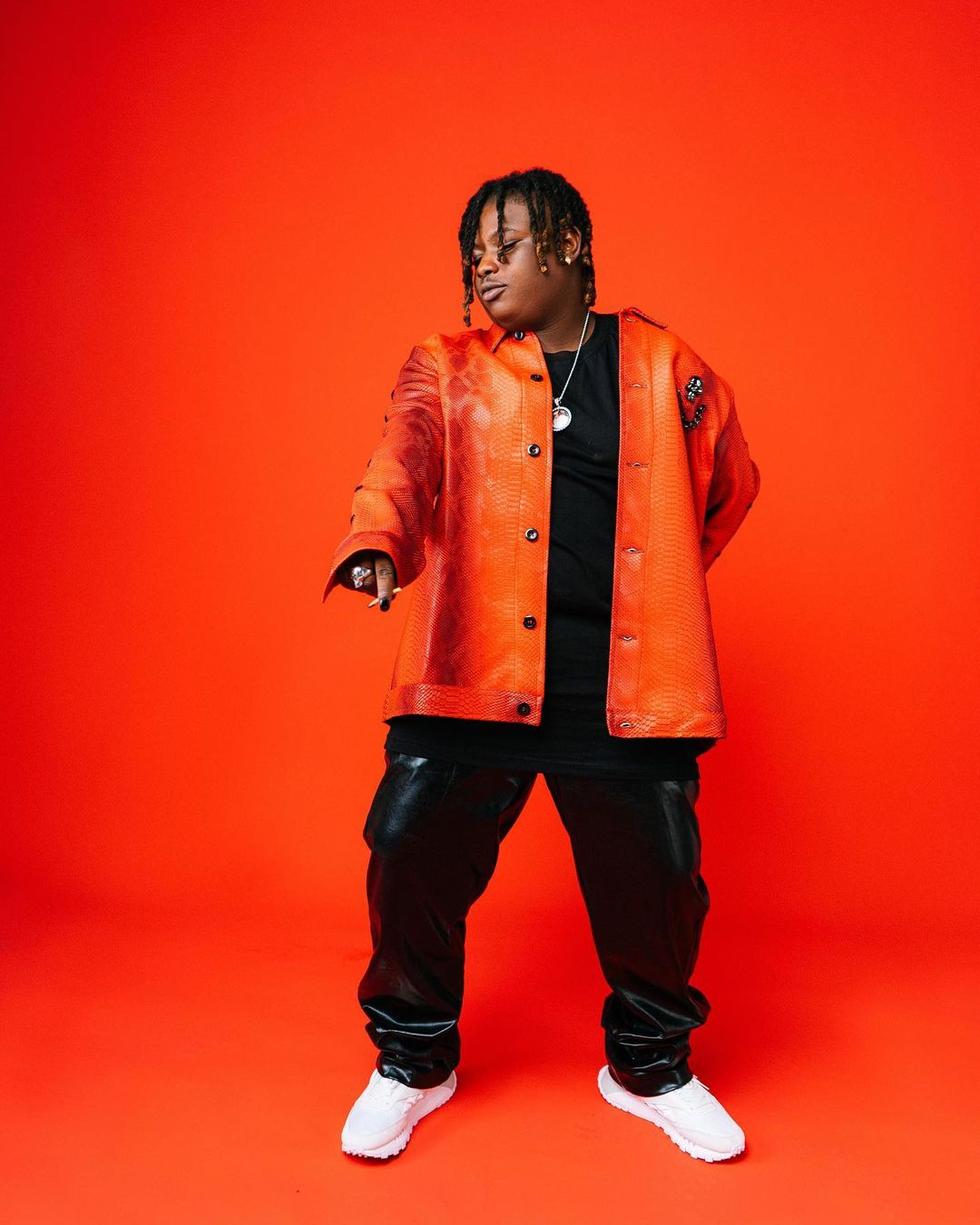 Image: Nigerian singer, Barry Jhay, wears a red leather jacket from Daltimore / image credit: @22.jumpstr (instagram)
Sustainability is very important in fashion today as we are trying to protect our environment from waste and pollution. We have tried to adapt some sustainable practices by making use of vegan leather and fur for our bags and jackets. Also, we have eliminated plastic and nylons from our packaging materials and replaced it with locally crafted packaging and recyclable paper.
Before I started the brand, I was making beaded bracelets, hand-woven bracelets, etc. I always like DIYs's so I found making accessories fun and I decided to pursue it further.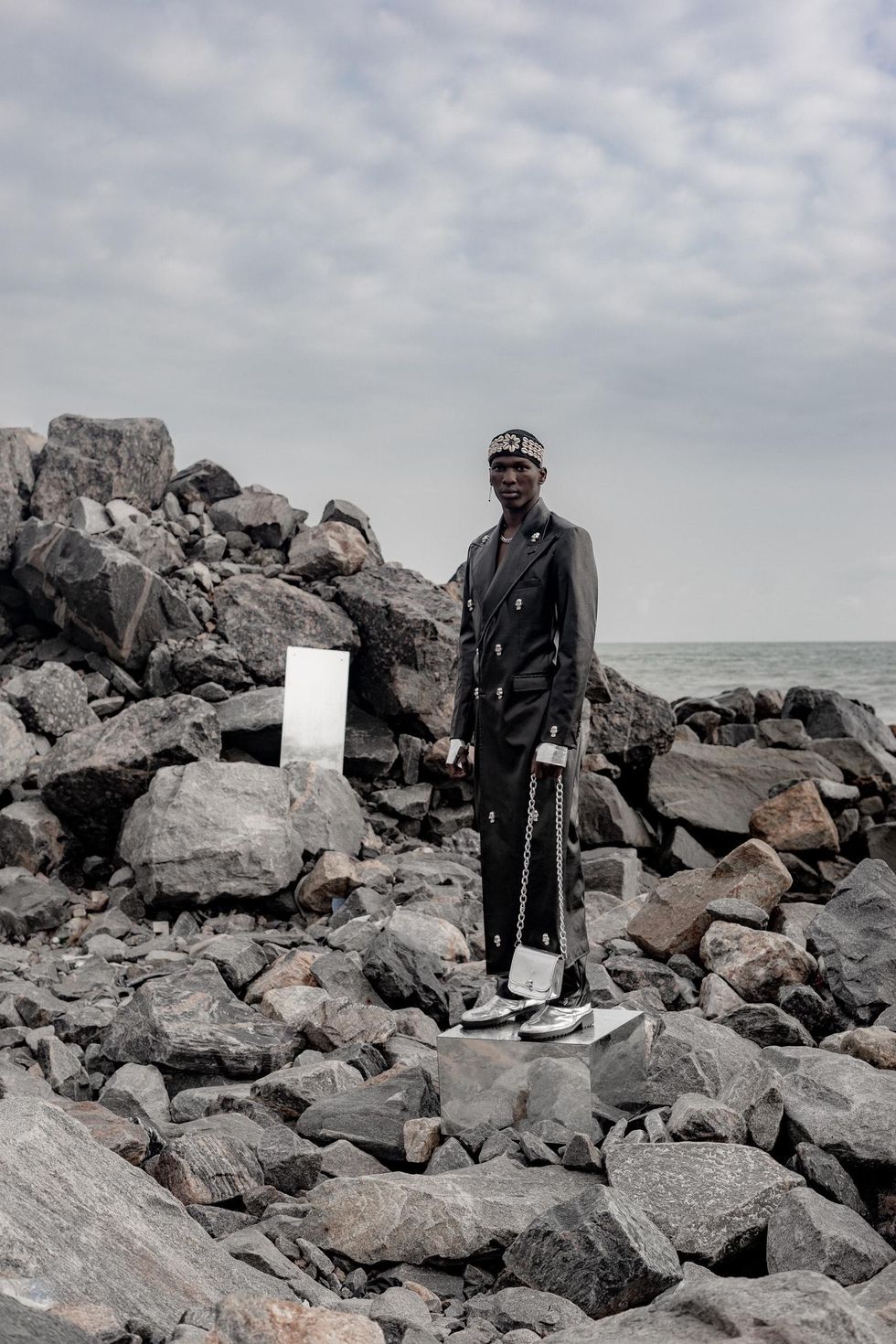 Image: Model wears Daltimore's Black Line SS20 collection / image credit: @ayanfee__ (instagram)
Our SS20 collection, Black Line. It was a collection in tribute to my elder sister who passed away and I was able to channel my emo side into it.
In the future we would like to have our flagship store, our products stocked in top retail stores around the world, and to showcase our biggest fashion runways.
And they said the perfect holiday gift doesn't exist…
Fela Kuti's 50th anniversary reissues released this year have reminded us why his status as a legend continues to ring true.
Through the year, Partisan Records (the homes of Fela's catalog) has released a number of special reissues, and now Vinyl Box #5 is set to drop just in time for you to be named the coolest gift giver in your friend group. The highly-anticipated fifth installment of vinyl reissues was co-curated by Fela's son, Nigerian afrobeat ambassador Femi Kuti and Coldplay frontman Chris Martin.
The volume includes titles Why Black Man Dey Suffer, Noise for Vendor Mouth, Kalakuta Show, Excuse O, Ikoyi Blindness, and Overtake Don Overtake Overtake. Fans can also be excited to hear a newly released extended version of Fela's "Original Sufferhead." The artwork for the box set has been carefully designed and recreated from Fela's original vinyl pressings, alongside cool, vintage vinyl label artwork. Each of these Fela boxsets has featured notable names lending their curating talents to handpick Fela favorites. Previous volumes have been curated by Erykah Badu, Questlove, Ginger Baker, and Brian Eno.
While putting the master's together for this box set, audio engineer Colin Young stumbled upon four minutes of "lost" material on the B-side of an original 1981 pressing, which includes an astounding keyboard solo by Fela that had been omitted from previous reissues. The restored version of "Original Sufferhead" starts and ends with Fela's keyboard mastery, a typically adventurous blend of futurism and emotional depth that Fela shared in his art. This will be the first time since it's release in 1981 that"'Original Sufferhead" will be presented in its full-length glory.
checkdfpScripts();

The Fela Vinyl Box #5 set will be released on December 10th and will be limited to 4000 copies worldwide, pre-orders are now open so get it while it's hot!
Fela Kuti – Original Sufferhead (Extended Version) (Official Audio) youtu.be
Despite the disbandment of the SARS units, young Nigerians are still being treated as criminals. We talk to several of them about their experiences since the #EndSARS protests.