Wekafore Releases Fela Kuti Inspired Collab With Daily Paper – OkayAfrica
Daily Paper x Wekaforé 'The Spirit Don't Die' collection
The one-of-a-kind 'The Spirit Don't Die' capsule collection celebrates African heritage and a hope for a brighter future.
Amsterdam-based African streetwear brand Daily Paper has joined Nigerian fashion brand Wekafore in creating a unique capsule collection of note. The 'The Spirit Don't Die' collection is inspired by fashion and Nigerian activism icon Fela Kuti, but celebrates the bountiful beauty, potential, and heritage of Africans.
Nigerian designer Wekaforé Maniu Jibril, owner, and designer of the Wekafore brand has been hot since his 2013 debut. The brand has gone on to become a great success within the realm of West African fashion. Wekaforé represents a newer, more fearless generation of African designers and their latest collaborative collection tells the tale.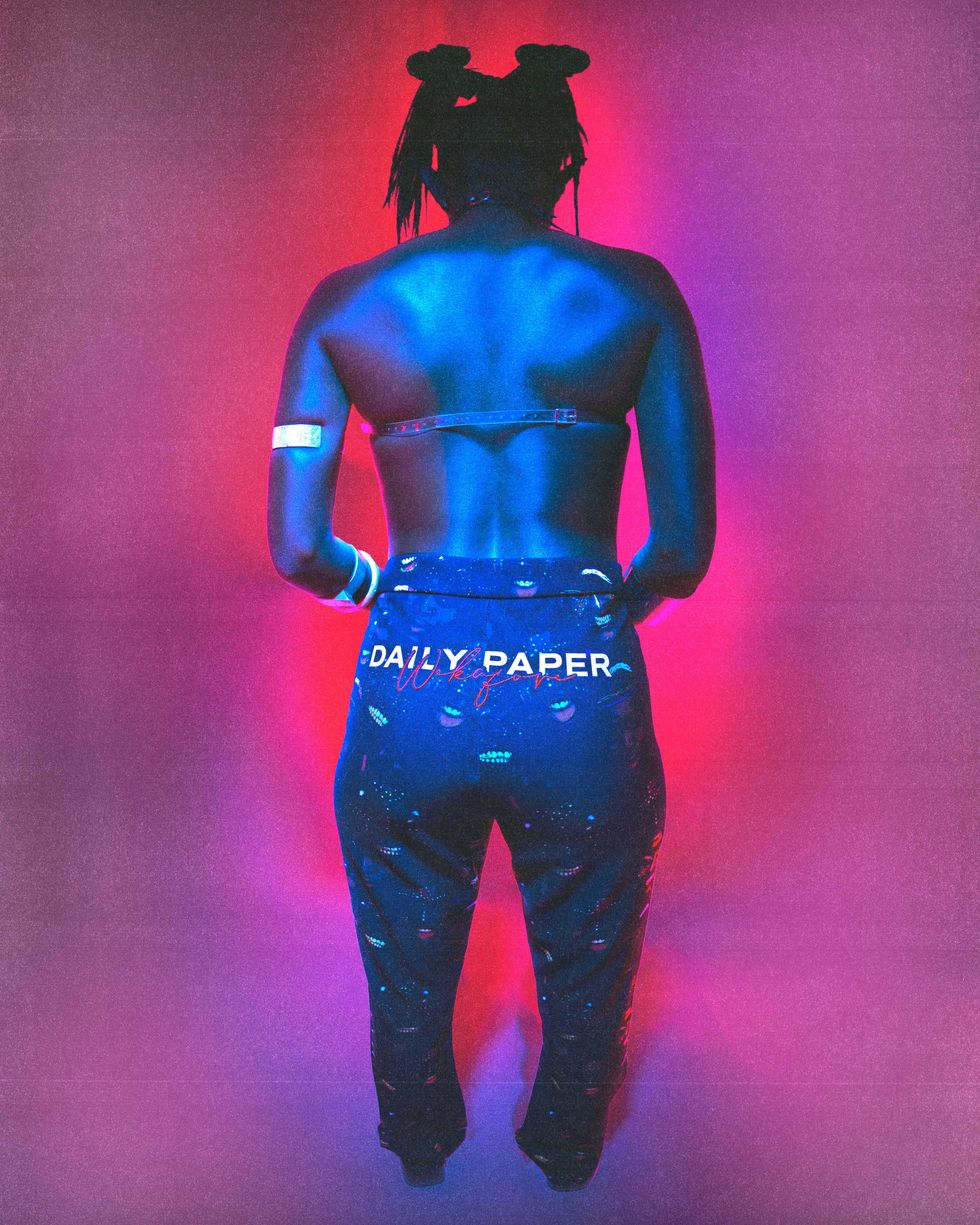 Daily Paper x Wekaforé 'The Spirit Don't Die' collectionImage courtesy of Daily Paper
The two popular brands share a rich history and intention to further African fashion's reputation in the world, as well as as a shared desire for raw necessity, organic growth, and authentic community engagement, development and, support. The fashion brands are making it known that street and casual wear are more than we once thought – fashion can be inclusive and fun. The stars truly aligned to bring us this partnership guided by similar core values and the hunger to celebrate Africa and her diasporas through fashion.
The Fela Kuti-inspired collection is filled with distinctive and bold pieces, honoring Africa's past while paving the way towards the future. Wekafore is known for their clear integration of West Africa's 1970's cultural golden age, and this limited collection speaks to those themes, making it a no-brainer to dedicate the line to the legendary King of Afrobeat, whose style never disappointed. It's clear to see how Kuti's influence inspired the exciting and vibrant creative renaissance seen in the collection. On using Kuti as his muse, Wekaforé says, "Like Fela, the pieces are very punk, very psychedelic, and very African at the same time. And that represents me 100%. And I think being able to speak that way through a platform like Daily Paper is a testament to contemporary African consciousness."
checkdfpScripts();
Image courtesy of Daily Paper
Daily Paper x Wekafore 'The Spirit Don't Die' Collection
Check out more of Daily Paper x Wekafore's collection 'The Spirit Don't Die' collection here.
Despite the disbandment of the SARS units, young Nigerians are still being treated as criminals. We talk to several of them about their experiences since the #EndSARS protests.
On September 12th, Tobe, a 22-year-old student at the University of Nigeria's Enugu Campus was on his way to Shoprite to hang out with his friends when the tricycle he had boarded was stopped by policemen. At first, Tobe thought they were about to check the driver's documents, but he was wrong. "An officer told me to come down, he started searching me like I was a criminal and told me to pull down my trousers, I was so scared that my mind was racing in different ways, I wasn't wearing anything flashy nor did I have an iPhone or dreads — things they would use to describe me as a yahoo boy," he says.
They couldn't find anything on him and when he tried to defend himself, claiming he had rights, one of the police officers slapped him. "I fell to the ground sobbing but they dragged me by the waist and took me to their van where they collected everything including my phone and the 8,000 Naira I was with."
Luckily for Tobe, they let him go free after 2 hours. "They set me free because they caught another pack of boys who were in a Venza car, but they didn't give me my money completely, they gave me 2,000 Naira for my transport," he says.
It's no news that thousands of Nigerian youth have witnessed incidents like Tobe's — many more worse than his. It's this helpless and seemingly unsolvable situation which prompted the #EndSARS protests. Sparked after a viral video of a man who was shot just because he was driving an SUV and was mistaken as a yahoo boy, the #EndSARS protests saw millions of young Nigerians across several states of the country come out of their homes and march against a system has killed unfathomable numbers of people for invalid or plain stupid reasons. The protests started on October 6th, 2020 and came to a seize after a tragedy struck on October 20th of the same year.
checkdfpScripts();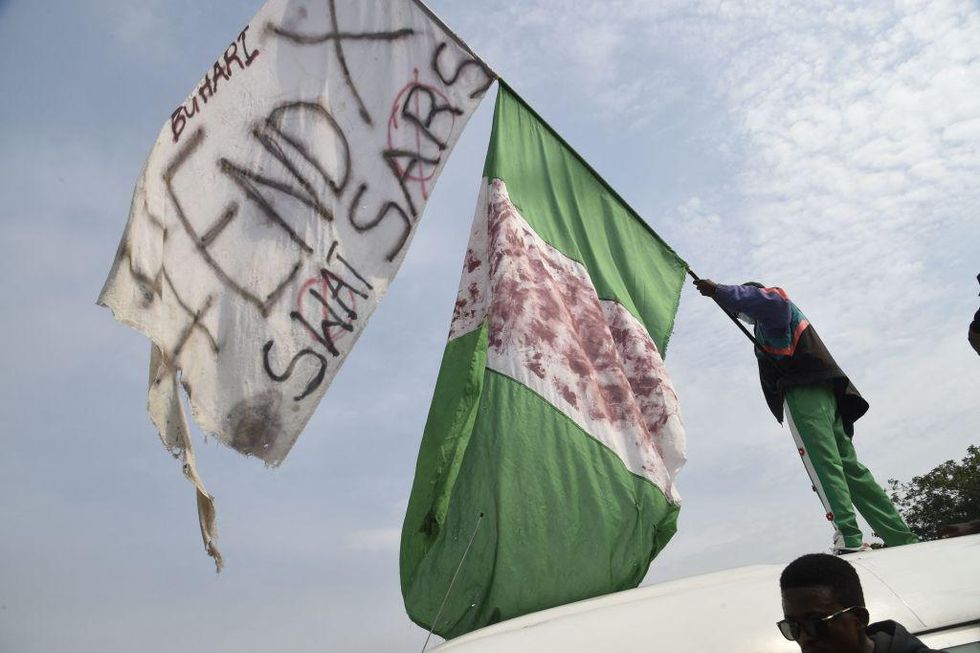 A protester raises the Nigerian national flag along with an EndSARS flag during a protest to commemorate one anniversary of #EndSARS.Photo by PIUS UTOMI EKPEI/AFP via Getty Images.
Bolanle, 26, and her brother Femi, 21, were there at Lekki Toll Gate on October 20th, together with the many other patriotic citizens ,who sat down singing the national anthem and raising their flags, while calling out the names of those who had been murdered by the SARS men. However, the siblings' engagement was called to an abrupt end after their mother had called and asked them to come home " We were there until 4pm when my mother had called and told us that a curfew had been fixed and we should come home immediately," they tell OkayAfrica. The two siblings had no choice but to obey and left for home immediately. It only came as a shock to both of them afterwards that they had escaped death just three hours later. When OkayAfrica asks Bolanle how she still feels about the incident, her answer is heartbreaking. "I get traumatized each time I think of that day and how I might have been one of those persons there screaming for help and watching those close to them die."
Bolanle and Femi are some of the fortunate few who unintentionally escaped tragedy before the Nigerian Army struck the Lekki Toll Gate at 7PM. On the army's arrival, the street lights and gigantic billboard that illuminated the toll gate were turned off, leaving the protesters's chants to echo in the darkness. Soon came the firing of bullets into the crowd of unarmed protesters, who were left screaming for help on social media platforms.
In an investigation made by Amnesty International, it was confirmed that 12 protesters were murdered by the Nigerian Army, bringing the total number of persons to had been killed throughout the two weeks of #EndSARS protests to 56.
Following what went down at Lekki Toll Gate and the deployment of military on unarmed protesters, a series of videos posted online confirmed the massacre — which the Nigerian government continues to deny to this day. On that same day, when the shooting started, Nigerian DJ Switch, born Obianuju Catherine Udeh, made a live video of protesters trying to save the lives of others who had been shot. It's from that same live video that thousands witnessed what really went down. In order to protect herself from the piles of death threats, the DJ had to seek asylum in Canada
On November 17th, 2020, CNN released an investigative report that detailed the tragedy of what went down at the Lekki Toll Gate. Despite the expository nuance and the excessive display of evidence, the Nigerian government denied the incident intermittently appealing for the sanction of the world's biggest news network.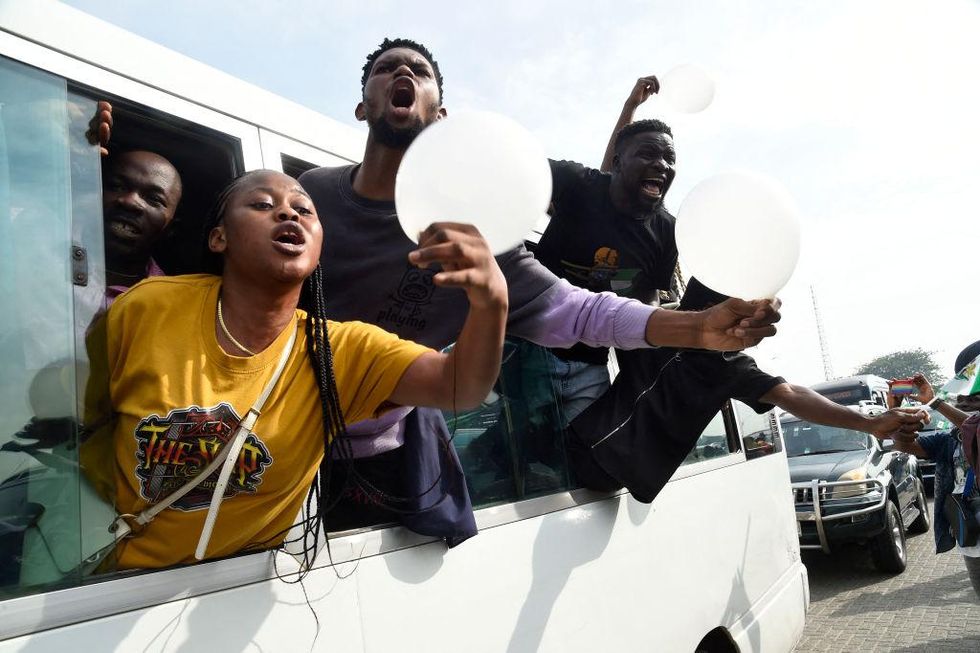 People chant slogans during a protest to commemorate one year anniversary of EndSARS.Photo by PIUS UTOMI EKPEI/AFP via Getty Images.
The disbandment of the SARS unit last year hasn't reduced the tyranny of military forces on Nigerian youth, one which 30-year-old Bassey Uduak can attest too. The banker tells OkayAfrica that he was accosted by Army officers on July 21st while coming back from work. "I was on my way home after work when I came by a military checkpoint and an officer asked why my seat belt wasn't on me. I was dumbfounded because I wasn't in any way ready for that. He interpreted my silence as disrespect and asked me to get down from my car. I came down only for him to hit me and told me to frog jump. I explained to him that I just came back from work and I was tired and forgot my seatbelt. But he wasn't buying it, telling me he had been in the sun while doing his job and I had no excuse for anything." In the heat of the argument more officers joined, forcing him to do the frog jump and beating him amidst. To Bassey, it was as embarrassing as traumatic. This was one of the reasons he had to skip his job to join the thousands of Nigerian youth for the #EndSARS memorial. "I wanted to come out to not just mourn and remember what happened on October 20th last year but to tell the whole world that nothing has changed. The system is still corrupt," he tells OkayAfrica.
Organized by the youth, the #EndSARS memorial came as a car procession and imagined thousands of demonstrators driving along to the Lekki Toll Gate while chanting protest songs. But what came as a peaceful remembrance of those who had been killed became a space for armed forces to deploy themselves against demonstrators yet again. They fired teargas into the crowd, creating chaos and dispersal. It was reported that 5 people were arrested, most of which were journalists who the commissioner of police insinuated had no means of identification. Following a report by Channel TV, the Governor of Lagos State has ordered the immediate release of arrested demonstrators.
The only thing that has changed is how the Nigerian Government keeps inventing new ways to punish the youth. On February 5th, the Central Bank of Nigeria released a statement issuing all financial institutions in the country to desist from facilitating crypto currency transactions as well as giving them the power to block any account found making direct transactions of crypto. This move forced a lot of youths who depended on the currency as their source of livelihood to trade their crypto with the alternative platforms provided.
Following the cryptocurrency ban came the indefinite suspension of the only platform young Nigerians have over the years used to optimize their cause, Twitter. On June 5th, a series of tweets was made through the account of the federal Ministry of Information and Culture that it would ban Twitter indefinitely. Ever since, Nigerians have been operating the app through the virtual private network (VPN) and it has since been stressful.
What drives the youth is embodying the substance of change, a regular craving they find comfort in sharing on social media. With that subtle rush of enthusiasm,they are willing to uphold certain spaces, just to make sure that positive change is drenched in the country's DNA. If there is one thing, you can't blame young Nigerians for loving their country enough to see that she gets a future in which everything is fast and flowing.
This article uses partial or changed names for some of those interviewed, due to their request and concern for their own safety.
We spoke with the viral 'Annoying My African Parents' creator about online success and his upcoming brand collab with Converse.